PrimeFLOW: unique fine fraction mixture with wood fibre
Would you like to start using a mixture without perlite, but with the same beneficial tehnical properties? Try our new PrimeFLOW mixture.
Fine Woodfibre mixture
Kekkilä PrimeFLOW is the most recent development within the FLOW product range. This new, fine mixture is especially suitable for the production of young plants from multiple product categories.
PrimeFLOW is currently the only fine mixture with wood fibre on the market. It consists of fine peat, mixed with properly fluffed wood fibre. Uniformity proved to be a challenge in the past when creating a fine mixture out of these components. However, due to our new inventive production methods we are now able to provide you with a high quality, uniform, lump-free mixture.
Small pots
The use of PrimeFLOW offers very good solutions to common issues in growing in small pots.
Smooth potting ensured: no fibres or impurities that can cause issues.
Excellent air and water balance for a competitive price.
Offers a great base for several additives like Controlled Release Fertilisers, Clay, Dark Peat etc.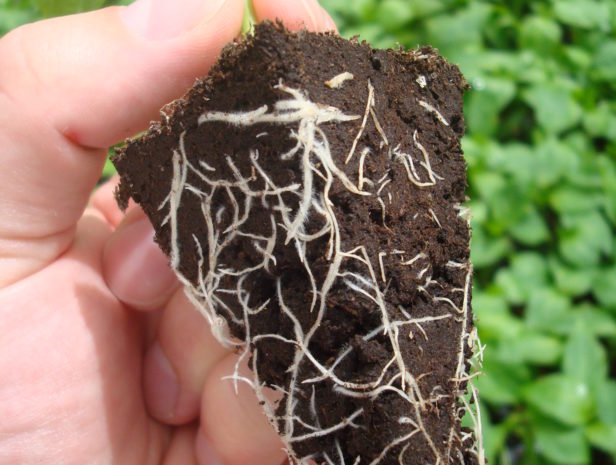 Technical advantages of PrimeFLOW
Reduced shrinkage: Roots are not reducing air content of the substrate as growing advances, due to an increased amount of  solids in the mixture.
More EAW (Easily Available Water): This leads to a better usage of fertilisers and water, because the effect of fertigation will be visible immediately.
Porosity on optimum level 92-93%: What really makes the difference is the pore size distribution and increased amount of medium-large pores which are the most important to the plant growthà 60-300um pores (pF range from -10 to -50)
Proven benefits in water uptake: PrimeFlow takes up water faster and more evenly when re-wetting the mixture. This mainly is a very important characteristics at the start of the growing period, when moisture level is highly important. With PrimeFLOW the optimal moisture level is achieved easily.
Good for all irrigation systems: PrimeFLOW is even suitable for wet irrigation systems such as ebb and flood, because the mixture has enough air in it.
Alternative to mixtures with perlite
Perlite is often used in substrates to add airiness and create good drainage capabilities in the mixture. However, not all growers like to perlite all the time, either due to, availability, the related costs or the issues it can cause with automatic transplanters. PrimeFLOW offers a great alternative to these mixtures, as it has the same technical properties and works well with the machines.
Kekkilä PrimeFLOW not only  ensures you of smooth potting, it also offers optimal drainage capabilities and is free of impurities.